'Like Us' with Social Networking...


Providing:
Setup
Customizing
Consulting
Marketing
DYI Training


Kind comments from students:
Anne Marie knows her stuff. She is training me on how best to use the social media sites I have chosen to be a part of. I was lost and now I'm found.....
Susie McDonell, Owner - Catering Unlimited
______________
Athena Computer Solutions is proud to support the Caring & Sharing Angel Tree Food Bank...
______________
Copyright Notice
All content on this site and any other sites created by Athena Computer Solutions is protected by Canadian copyright laws.

Websites/Facebook
Recent Launches
Spring 2018
WSC Canopy
(redesign)
SNF Electric
(redesign)
(redesign)
Withrow's Farm Markets (redsign)
Past Web Sites
Sympathetic Ear
Animal Rescue
Cooks Brook
Raven Wisdom
Healing Retreat
Moose Brook
Chaplain's Challenge
Tournament, Halifax
Regina Physio Clinic
Facebook Page
Molnar Welding, Lantz - redesign
Hops 'n Grapes
Elmsdale
Bill Borden Locksmithing, Enfield - redesign
Scott Blois Automotive, Enfield
Canmac Watercraft & More, Elmsdale
Corridor Auto Sales, Enfield
Papa K's Diners, Enfield & Shubie
Ms. Moneybags
Coin Shop, Elmsdale
Anglican Parish of Lantz, Lantz & Dutch Settlement
Value Vending Services, Oakfield
It's Sew Time on Facebook, Elmsdale
Shirely Baxter Knits on Facebook, Oakfield
Shirley Baxter Knits, Oakfield
Hants Crafters, Maitland - Redesign
Trash & Treaures, Maitland - Redesign
The Shoreline Journal on Facebook, Bass River
Athena Solutions on Facebook, Enfield
St. Bernard's Church, Enfield
Central Nova Animal Hospital, Truro
NEW SITE UNDER CONSTRUCTION - September 2021

Featuring remote, contact-less training...

Senior Friendly training, DIY Websites & more...

Watch for our new 'parking lot signs' around town...

---

Promote Your Business with Social Networking!

Athena Computer Solutions has created various new owner-maintained business Facebook branding pages - they're local and they're looking for Likes! Athena sets up and fills out your page, promotes it and instructs in how to maintain & market the pages yourself...

View our brochure & web flyer in pdf...
---

Athena Computer Solutions has over 30 years experience in the Information Technology field, dealing with many different computer systems in a variety of environments, including large and small businesses, government offices and non-profit organizations. We serve the Tri-County area of Nova Scotia, Canada - Hants, Colchester and Halifax counties. We offer great rates and no tax on any of our services!
Prefer to have a user-administered web site that you can update yourself? Sure, we can set that up for you! Need a PayPal account or a Social Media site started? Yes, we can do that too!
Catering to:
Providing:

Small Businesses
Individuals
Churches
Groups

Internet Website Design
Marketing Materials
Social Media Setup
Private Training
Consulting
Our clients in the Tri-County area have included:

Absolute Traffic
Atlantic Excavation
Blue Raven Farm
Caring & Sharing Food Bank
Catering Unlimited
Clean Cut Property Services
Conifer Ridge Farm
Country Artist Charlene 'Charlie' Harvey
Curtis Custom Design
D&J Tents
East Hants Chamber of Commerce
East Hants Municipal Government
Euro Equestrian Sales
Fundy Tidal Interpretive Centre & VIC
Fundy Veterinarians
Gallery 215
Golden Age Auto Club
Guenter Burr Studios
Hants County Arts Council
Highway 102 Surplus
Holeshot Motorsports
Hyland Mills Kitchens
Informative Data Cartridges
It's Sew Time!
JD Clarke, Country Performer

Just a Hobby Photo
Lisa's Cafe
Maitland Heritage District
McCulloch Family Bakery
Molnar Welding
Musician John Sands
Noble Music Studios
Nova Scotia League for Equal Opportunities
Rosebowl Flowers & Gifts
RT Collision Centre
Serenity Spa & Salon
Shearer Photos
Shirley Baxter Knits
The Agridome, Provincial Exhibition Grounds
The Place Near & Far Gallery
The Ridgewood Bridgewater
The Shoreline Journal
Tin Smith Shop Museum
Trumphill Kennels
Unit Production Vehicles
Value Vending Services
Village Bakery
West Hants Chamber of Commerce
---
Experience - Owner/Operator Anne Marie Feetham is associated with a variety of professionals, and has herself more than a quarter century in the Information Technology and Marketing fields, including experience in:
Marketing campaigns & graphic design for:
Superstores (Head Office)

Force Ten Communications

Literary conventions - Hotel Nova Scotian, Old Orchard Inn, etc.
Support:
Aliant/Sympatico - tech/internet support

Imperial Oil/Esso - computer support

Maritime Tel & Tel - customer support
Database Administration:
Maritime Tel & Tel

Superstores (Head Office)

Nova Scotia Department of Health
and more...
---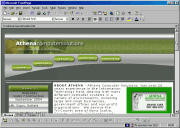 Professional websites at affordable prices. Customers can choose a website, whether large or small, that suits their business, group, or organization. Athena produces beautiful sites with links to your associates researched and tested. We also explain in "plain English" what the internet is all about, what are domain names, hosts, meta tags, search engines, etc., all the terms that you need to understand. Athena will help you use the internet as an effective marketing tool! Click on Websites to see our rates and our extensive portfolio; we've designed great sites for customers as varied as a wedding cake designer and a welder, from caterers to crafters to churches.
We submit our client's websites to over 75 on-line search engines & directories!

Athena produces full colour marketing material such as flyers, brochures and business cards, custom created for each client. Because we are small, we can accommodate small print runs, thereby keeping your costs low! We also offer our clients ways to save money (and paper), by designing mini-flyers so you can more out of your money. Visit our Design page to see more samples of our work and check out our rates.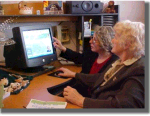 Owner/Operator Anne Marie has been providing personalized computer training services for over 35 years for all kinds of students. Equally at home in classrooms, workshops, offices or private homes, Anne Marie offers customized tutoring for your specific needs, and offers special discounts for seniors and students! Click on Tutoring for more information and rates.

While it's easier than ever to buy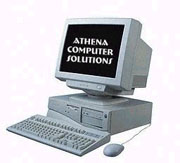 a computer for your home or business, there are also more choices than ever when it comes to hardware, software, internet service providers and so on. Athena consults with the client to determine the system that's best for you, assists with installation and customization of new or existing systems, or troubleshoots problems with your current equipment. Click on Consulting for more details and rates.

Monday to Friday 9:00am to 5:00pm
email inquiries welcome! www.athenasolutions.net
copyright Athena Solutions - 2006